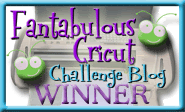 Wow, it has been such a busy week and I have not had a minute to craft, post or even read all the blogs I follow. So, I was super excited when I discovered I was a winner over at Fantabulous Cricut for my hot cocoa card.
It really was such a super surprise and I even won a prize! Cool!
I hope to get a little crafting in this weekend.