Only a few days left to enter the Buggie Challenge to win a prize!!!

See post below for details or simply click on the bug challenge button on the right to enter your project for a chance to win!!
That's right, the BugBites Blog has a new look!
Isn't it fantastic!!! This has been one of those big projects I have been working on for quite a while.
Madeline over at Shabby Vanity is awesome so if you are looking for a blog designer, please check her site out.
Now, let me show you around.
The buttons at the top have changed a bit so I can prepare for more buttons and fun down the road for you all.
The Buzz is now the place where you will find the BugBites Gallery, my Cricut Cartridge list, some of my favorite blogs and more.
Food Fare is still the market place to find 8x8 layouts for delicious recipes. In the near future, you too, will have an opportunity to get a taste of the Food Fare.
Contact of course is where you can drop me a special note, ask a question or anything you like.
Over on the left you will find my brand new Blinkie. I just love how it turned out. I would be grateful if you placed it on your blog to show you're Buggie for BugBites.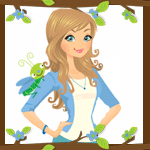 On the right and left panels, you will also find the great Design Teams I am currently serving on as well as Guest Designer spots, my buggie followers and the archive of all the BugBites Buzz in case you want to take a walk down memory lane.
Because I am so excited to finally be sharing this with you, I thought what better time than to jump on in and host my very first buggie challenge.
The Challenge:
Create your best "Buggie" project
It can be a card, layout, 3D project, etc
Include a bug cut using your Cricut somewhere on your project.
Link up your project below by March 31
and leave a comment.
One Lucky winner will receive a My Pink Stampers Buggy Punnies stamp set.
I don't have any sponsor for this challenge so this is a gift from me.
I can't wait to see all the "Creative Buzz" from all of you.