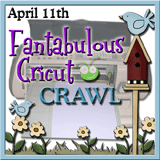 Thank you everyone for joining us for the Fantabulous Cricut Spring Fling Crawl. I am overwhelmed by the support and kind comments you all left for me. How wonderful.
I hope we can do this again soon.
I can't believe all the new followers and look forward to even more and reaching 300 soon.
Now for the big finish-- time to announce the winner of the
Creative Memories Butterfly Pocket Punch
Jovan said...What a great card and the sentiment is prefect!
Jovan- please email me at BugBites411@gmail.com with your snail mail address so I can get the punch out to you right way.
Congratulations!