Happy Saturday!!
It's my DH's birthday today so won't be crafting much til later tonight since it's his day to do what he wants to do.
Have you noticed this blinky on the right side of my blog??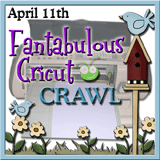 It's there because, Fantabulous Cricut is hosting their Spring Fling Cricut Crawl on Monday.
You don't want to miss it.
The DT has some amazing projects for inspiration along with many prizes.
I will have a special give away for the crawl as well so mark your calendar, set your alarm or whatever you need to do to not miss any of it.
Have a great day!!