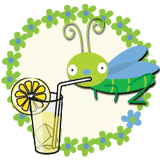 Ok- we have just a couple days before we kick off Part 2 of the
Grillin' & Chillin' Bug Hop
with who I call Team Chillin'.
This is a group of 20 designers who I can't wait to see what amazing work they have to share
with us for this bug hop.
Here is a little project to crated for the weekly challenge over on the Cricut Circle Blog, to get you in the mood and thinking of summer.
The challenge was to create what makes summertime "sweet" to you?
Remember, you too will be able to participate in the bug hop with a project.
Just check back here on Saturday morning to see what the challenge is and the rules.
I will be giving away a circut catridge to one of the lucky challenge entries so be sure to
join us this weekend and get buggy!
Here's how I did it...
This card is 5.5" x 5.5"
The popsicle acetate is from Momenta
Popcicle/layers cut at 4" from Simply Charmed
Chill out title/layers cut at 1" from Simply Charmed
Ribbon from my stash
Face from PKS
Spots and dots embossing folder from cuttlebug
Yellow stickles and doodles with my gel pen