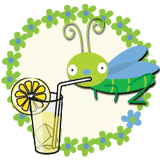 Thank you, Thank you to all the Designers that participated in this weekend and last weekends Bug Hops. It was a huge success.
I also want to thank all of you that hopped along to see some great inspiration, maybe discovered some new blogs to follow and got creative by linking up a project for the challenges.
Without all of you, this bug hop would not have been successful.
I truly appreciate all the comments over the past couple weeks. I read all of them and am overwhelmed by all the great support out there in the crafting community.
Now, for this weeks winner of the
Grillin' & Chillin' Bug Hop Part 2 challenge.
To qualify, all entries had to link their project by the deadline, include at least one cricut cut on the project and include one of the hidden bugs from the hop.
If you hopped along, you should have found three hidden critters...a ladybug, a grasshopper, and a caterpillar.

Therefore, the qualifying entries were to include one of these three critters on their project.
The ladybug by far was a favorite!
Barb's card is perfect for a Bug Hop! The tall grass really looks tall when paired with the tall card shape. The grasshopper looks like he is king of the grass!
Congratulations Barb! Please contact me at bugbites411@gmail.com with your snail mail so I can get your new cartridge in the mail to you.