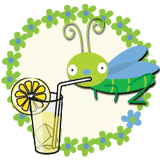 Just a quick reminder to all of you out there that the final weekend of the
Grillin' & Chillin' Bug Hop
will begin at 7am CST tomorrow morning, June 4.
Like my little bug in the blinky badge above shows - nothing says summer like a cold glass of lemonade.
So here's a chilled glass of sweet and sour lemon goodness to get you realxed and ready to hop along with us tomorrow.
Here's how I did it....
Paper from my stash
Base of the card is 2 shapes from Elegant Edges, 4.06", welded together with my gypsy, I used the Shadow cut
Card front cut 3.86" from same Elegant Edges shape
Glass/layers cut at 2.82" from Just Because Cards
Ladybug/layers cut at .75" from Doodlecharms
Lemons cut at 1.15" & 1.41" from Simply Charmed
Faces from PKS
Sentiment is from Scrappy Moms
Ribbon from my stash
Glossy accents on the glass and a sprinkle of stickles
See ya tomorrow morning for our Bug Hop and a chance to win a Cricut cartridge!